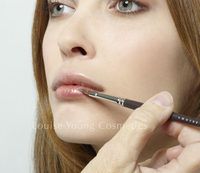 Travelling the world making people look perfect sounds like a dream job, but how do you go about it?
Becoming a professional make-up artist is becoming an increasingly popular career choice. Perks can include travelling to exotic locations, working in glamorous industries like film and television, having control of your own time and being paid to do what you love. But how do you make the move from bathroom mirror makeovers to being paid to travel the world with film stars and supermodels?
Ways into Professional Make-up Artistry
There are various routes into professional make-up – but be prepared for a lot of hard work.
Some people are self taught, practicing on friends and family until they feel confident enough in their skills to charge for their services. This might be fine for simple makeovers, but in order to be able to compete as a professional make-up artist it's essential to get proper training by working as a trainee at a cosmetic company or taking a course at a professional school of make-up.
There is no set route to success; but hard work and a desire to be the best will help you to succeed.
The best make-up artists never stop learning, keeping up with the latest techniques, new products and fashion directions. You will be expected to keep up to date with the latest trends in the make-up and beauty world. This means subscribing to make-up and beauty websites, connecting with make-up brands and artists on social media, chatting with other make-up lovers in forums and sharing tips and tricks.
It's a good idea to subscribe to a specialist make-up magazine in addition to fashion and beauty titles. Be aware of seasonal changes and trends as soon as they are emerging and ensure that you are confident in creating the latest looks. Potential employers will expect you to be able to reproduce a wide variety of looks, from retro to cutting edge. It's fine to specialise in one or the other, but always be prepared to showcase the widest range of skills that you can. Practice really does make perfect.
Taking a Professional Make-up Course
There are many advantages to taking a professional make-up course at a college or studio. Guidance from industry experienced tutors will help you to progress with your career much faster than trying to do it alone.
Attending a professional make-up academy will ensure that you learn the full range of specialist skills required, such as HD make-up, special effects for film and TV make-up and airbrushing. Make-up is a very competitive industry so your expertise in the widest range of skills possible will help to ensure that you find regular work. Alternatively, you may wish to specialise, for example in prosthetics or period drama.
Working for a Cosmetic Company in a Department Store
Although very competitive, if you have an outgoing nature and are not afraid to approach the public with your expertise, you may learn a lot by working on the counter of a large cosmetic company concession within a department store. Retail experience will provide you with good product knowledge and you will learn to deal confidently with people, an essential skill in this business. You will become proficient at applying make-up and depending on the brand you may be on commission, so the more you sell the more you will earn.
For more information about professional make-up courses from PAM London please visit http://www.preciousaboutmakeup.com – a professional make-up and make-up course supplier.